"I've been around horses and have lived on the Niagara Escarpment all my life. Not only have these magnificent, beautiful creatures provided me with years of riding experience, I've been surrounded by the natural beauty of these protected woodlands. I'd love to introduce you to horseback riding here at Niagara Riding Stables, especially since ours is the only public trail ride situated right along the escarpment in the Niagara region.
Dinah McGibbon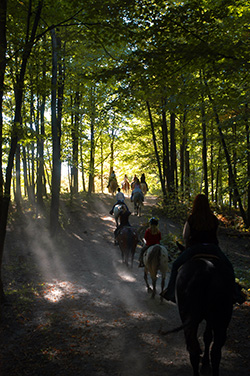 If you've only ever heard about the joys of horseback riding, come experience it first hand here at Niagara Riding Stables. Our location is "head and shoulders" above the rest, literally! You will treasure your time spent here for a lifetime."Take a scenic ride along the Niagara Escarpment on horseback. Leave your troubles behind as you meander through peaceful woods on one of our well-trained, well cared for horses.
Reservations are required.
No experience is necessary; our horses are suitable for all levels of experience. Each trail ride takes approximately 45-50 minutes and the cost is $75.00* (taxes extra) per person with a two person minimum.
The minimum age requirement for trail riding is 10 years and the maximum weight restriction is 240 pounds. We are open year-round*.
(*Please note that due to unpredictable conditions, winter rides are weather permitting.)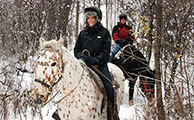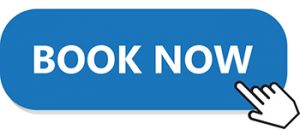 There is a lot to see on a trail ride through the escarpment and we're open all year round. Come trail riding along the Niagara Escarpment and experience this beautiful natural environment from horseback. Trail rides are scheduled for 11:00am, 1:00pm, and 3:00pm and 5:00pm during the spring, summer, and fall seasons. Winter rides are scheduled for 11:00am, 1:00pm, and 3:00pm. Gift certificates are available.