About Us
"I've been around horses and have lived on the Niagara Escarpment all my life. Not only have these magnificent, beautiful creatures provided me with years of riding experience, I've been surrounded by the natural beauty of these protected woodlands. I'd love to introduce you to horseback riding here at Niagara Riding Stables, especially since ours is the only public trail ride situated right along the escarpment in the Niagara region.
Dinah McGibbon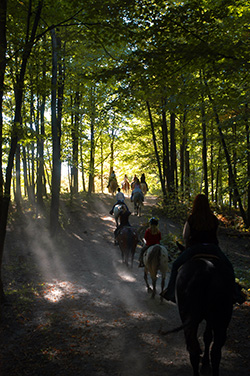 If you've only ever heard about the joys of horseback riding, come experience it first hand here at Niagara Riding Stables. Our location is "head and shoulders" above the rest, literally! You will treasure your time spent here for a lifetime."Take a scenic ride along the Niagara Escarpment on horseback. Leave your troubles behind as you meander through peaceful woods on one of our well-trained, well cared for horses.
Reservations are required.
We Are Open
Niagara Riding Stables is OPEN. We are just a short 15-minute drive from either Niagara Falls or Niagara-on-the-Lake. We offer trail rides along the Niagara Escarpment for couples and for small intimate groups of no more than four to six riders. Costs are $75.00 per person (taxes extra)

Niagara Riding Stables has implemented the following policies:
Group ride sizes will be limited to 6 riders.
Private rides are available upon request.
Helmets are mandatory and provided.
A mounting block will be used for all riders.
Guests can take pictures or videos using their own devices, and when possible, staff can take photos with customer devices after the trail ride is completed.
Payment may be made prior to arrival by credit or eTransfer or through contact-free payment upon arrival.